Paul Pogba: Big Problems at Man Utd
The problems at Manchester United seem to be getting worse & worse! Paul Pogba is the one stirring the pot today, insisting that he is ready to face another challenge. He stated;
I think for me it could be a good time to have a new challenge somewhere else.
Paul Pogba Career Stats & Milestones
The French midfielder has good stats throughout his career, but he does often get singled out for 'walking' about the pitch, being too interested with social media instead of playing football and so on. If you take a look at his stats, he does contribute more than it looks on the surface.
Pogba scored the most goals (13) last season. He was the main penalty taker, which explains this. However, he also made the most passes (over 2000), compared to Matic who was second with 1800. He also took the most shots, tallying 105. Rashford was second, with 84. Although he gets his criticism, he was the best performer in this side. However, they all under-performed! 
Sub-Standard Squad
There is a huge difference in the quality of teams in the Premier League. With all the money in Football, promoted teams will find it harder than ever to remain competitive, as even the likes of West Ham United are capable of signing players such as Pablo Fornals and Maxi Gomez may also be arriving. However, the gap between Man Utd and the likes of Liverpool & Man City is also widening. Whilst Man Utd have been through many managerial changes, Klopp & Guardiola have been able to recruit players that perfectly fit their system. Chopping and changing managers cause huge issues when they have different play styles, as if they have signed a player for a specific purpose, it can become redundant under the new manager.
Diogo Dalot may be the most recent example of this. Mourinho purchased him as the right back has fantastic potential, but Ole Gunnar Solskjaer hasn't fancied him as much. It can cause transfer casualties, resulting in the team regressing, rather than progressing. It's also worth adding that lots of money is wasted in the process!
The impact of constant managerial change has led to a sub standard squad at Old Trafford. Players such as Chris Smalling, Phil Jones & Ashley Young are the first to be criticised for being in the line up regularly, but the truth is, that's the best Man Utd have got. Whilst I personally think Eric Bailly is a better defender, his injury record is as long as the Stretford End!
Poor recruitment goes back right the way from when David Gill & Alex Ferguson simultaneously retired. The truth is, Man Utd never replaced Cristiano Ronaldo, instead opting to play Jesse Lingard and Juan Mata in that position.
Going back to the future, United's first signing this season is left winger Daniel James. He has played on the right for Swansea, but has been ineffective, failing to score or assist. Another left winger, accompanying Alexis Sanchez, Marcus Rashford, Anthony Martial.
The transfer window hasn't closed yet, but rather than immediately address their issues, they've added a winger.
In comparison, Real Madrid have added Left Winger Eden Hazard. Given the option, most people would choose to play with the Belgian at the Bernebau.
The Mino Raiola effect
Mino is Paul Pogba's agent, who is notorious for getting his players transferred to elite clubs, for tremendous fees. Although under contract at Man Utd, he tried to get Pogba to transfer to Barcelona in 2018. It was also revealed by Pep Guardiola that Pogba was also offered to him. It looks like money can't buy class with Raiola, who isn't afraid of upsetting anybody to get deals over the line. What this also shows though is a lack of ambition and dedication. Paul isn't dedicated to the Man Utd rebuild, as he has admitted now he wants a new challenge himself. When the player openly makes statements like this, he's basically handing in a transfer request. 
Sir Alex Ferguson believed Raiola was a plague to football, which led to him releasing Pogba in 2012. He admitted Pogba had fantastic talent, but the agent was causing far too much trouble and he didn't want it to disrupt the club.
Pogba called his return to Old Trafford 'Destiny', but that seems dead in the water now. As he openly made that statement, he lost the backing of the Red Devils, who are now calling for him to be sold, at the rumoured price of £120 million.
You can understand why Pogba wants to leave, as Man Utd aren't the powerhouse they once were, declining pretty fast. However, what hasn't gone down well is the admittance that he wants to jump ship.
Man Utd have actually stated that Paul Pogba will not be sold this season, but this could be a big bluff in order to maintain their asking price for him.
Let's wait and see. Stay tuned for updates!
Paul Pogba Scout Report
Pros
Finishing, Long Shots, Dribbling, Passing,
Cons
Work Rate, Aggression, Crazy Penalty Run up!!
Summary
Paul Pogba has been flirting with the idea of a Juventus / Real Madrid transfer. It's going to be a long summer for Man Utd fans who want him to remain.
Joao Felix: Atletico Madrid's New Number Seven
Recently, we bought you the Scout Report on Gedson Fernandes. Today, it's time for Joao Felix, another Benfica wonderkid.
His transfer to Ateltico Madrid has been confirmed tonight, with the figure an approximate £113 million. This is the fifth most expensive transfer in football history.
Although he's exciting to watch, the fee does seem a little high, as Felix hasn't really achieved much in the game yet. Although, he is only 18, so that could be why.
Atletico Madrid paid £5 million more than the release clause, in order to negotiate that the fee is to be paid in installments. This is quite clever from Atletico Madrid, as it stops them from being out of funds for the upcoming season.
Joao Felix joins a list of Elite Transfer fees, with only Mbappe, Neymar & Pogba transferring for more. If he can develop similar to these players, it will prove fantastic business by Atletico.
Atletico Madrid have handed Joao Felix a 7 year contract, which fully protects their asset for most of the duration of his playing days.
Felix scored a hat-trick against Eintracht Frankfurt in the Europa League in April, becoming the youngest Benfica player and the youngest Portuguese footballer to score three goals in Europe and the youngest player ever to do so in the Europa League.
He has been handed the Number 7 shirt, famously worn by Antoine Griezmann. However, a once fan-favourite Griezmann has declared that he's played his last game for Ateltico, with Barcelona expected to confirm the signature of him in the coming days. His release clause is £120 million, so it's almost a straight swap, Antoine for Felix.
Joao Felix will be the 3rd new signing for Ateltico, joining Hector Herrera & Felipe.
We expect to see more transfer activity, after Atletico announced tonight that Rodri would be leaving, to join Premier League Champions Manchester City.
Joao Felix Scout Report
Pros
Flair, Fan Favourite, Goal Threat, Dribbling, Pace
Cons
Untested in a European League
Summary
Joao Felix looks fantastic, but will he be able to leave his mark in La Liga?
Wilfred Zaha: The Player Submits a Transfer Request
Wilfred Zaha has turned his career around, after failing to impress at Old Trafford all those years ago. Sir Alex Fegurson ordered the signing of Zaha, but retired before he could see Zaha in action as a Red Devil.
David Moyes took the reins at Man Utd, but failed to implement Zaha into the squad and deemed him surplus to requirements. This often happens when a player is signed but the management is adjusted, as managers tend to have their own players, playstyles to adhere to. Zaha was the casualty in this one.
Man Utd took a £12 million loss, as they ended up selling Zaha back to Palace. The only positive of this deal would be a 25% sell on clause, which could earn United some money in the future, or maybe sooner than that!
Arsenal have declared their interest in Wilfred Zaha, offering £40 million just days after Man Utd signed Wan Bissaka for £50 million.
Crystal Palace were reportedly insulted by this, which can be understood. They sold a Youth Prospect for £50m, so surely their star player is worth more?
Wilfred Zaha has now put in an official transfer request, as he tries to push through a transfer. However, he's contracted at Palace and it's pretty certain they won't be accepting any sub £60m bids.
Kylian Mbappe commits himself to PSG
Kylian Mbappe has been at the centre of a tug of war between PSG & Real Madrid. It's been all over the headlines. With the Real Madrid re-build underway, alongside their need for galacticos, you could see how Mbappe is the perfect signing for Real Madrid. However, all PSG fans will be jubilant this afternoon, as the World Cup winner has stated;
I will be at PSG next season. Now is not the time to talk about a transfer to Real Madrid.
Can PSG sell Mbappe?
This is a huge statement, as he has openly admitted he won't be going to Real Madrid next season. The worrying thing here, may be that he never really committed himself to PSG, he simply stated he would be at PSG for next season. It was quite unlikely that Real Madrid would come in for Kylian after spending close to £250 million already, on the likes of Luka Jovic, Eder Militao & Eden Hazard. It's also widely reported that Ferland Mendy will join, who should cost around £30 million.
How much would Kylian Mbappe cost in the current market? close to £200 million? PSG paid just over £135 million, so they would want to see a healthy profit, if they were to sell him. It's not only financial for PSG, selling their star to another club would show that they aren't the power which they hope to be, it also reduces their chances of winning the Champions League, their ultimate goal.
Twitter
It was widely stated on social media that Kylian Mbappe had a specific list of demands which must be met, or he was willing to walk away from the club. These included a clause where he must play as a striker, taking all the penalties if he's on the pitch. He also apparantly requested that he owns a higher percentage of his image rights. Kylian took to twitter to personally shut this down, hysterically claiming that he had also requested to play as a goalkeeper, before shutting the 'source' down as Fake news.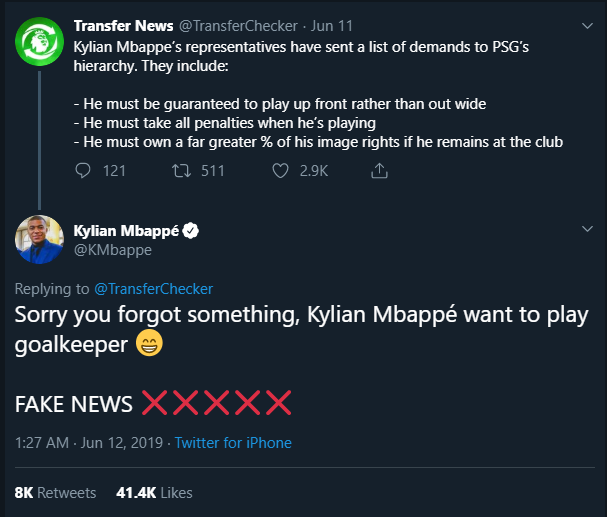 Neymar
It has been rumoured that Kylian Mbappe & Neymar don't have the best of relationships, due to them both wanting to be the golden boy. Neymar jokes in press conferences, stating that he calls Mbappe the Golden Boy, but that must hurt Neymar to some extent, who was the main man just before Kylian arrived from Monaco.
Neymar has also stated that he has a similar relationship with Mbappe as he did with Lionel Messi, but we know how that one ended up, he left Barcelona to join PSG as the main man!
It's understood that the PSG owners would rather lose Neymar than Mbappe, as Mbappe is the more expensive, younger player. Also, with Neymar's recent injury record, it would be quite frustrating to say the least. It's definitely better to have them in the same team, but if personal ego's come into this one, PSG would probably be better off with just the one of them.
One thing is certain, Mbappe is going nowhere this summer. As he hasn't openly committed himself to PSG in the Long Term, PSG must focus their energy on the Champions League, as this is their ultimate goal. They know they can win the Ligue 1 on cruise control.